An exciting game for kids' birthday parties, adult groups, fairs, and corporate team-building!
(Note: These videos are from Imagine Beijing's Bubble Football, but it is the same in Taiwan)
FAQ
What happens in a Bubble Football activity?
Imagine instructors first give a safety introduction, lead the warm up and explain how to use the bubbles.  Then we begin with a game of Bubble Football. It is just like soccer, but wearing the bubbles. After this, the Imagine instructor will lead lots of other fun games, without the football, to let everyone have more fun. These games all involve racing, bouncing, rolling and bumping into each other in all kinds of ways. We have a long list of games, so according to your group, the instructor will choose the most fun games at the time. Activity time is usually around 2 hours. We can guarantee a lot of laughter, fun and great exercise! 
Who can play?
Kids and adults, between 115-190cm tall. That's approximately ages 7+. All participants must be in full health with a good physical condition, no weak joints, breathing problems, heart problems etc. Ideally, participants should be relatively sporty.
Is it safe?
The risk level is approximately the same as when playing soccer or basketball. Our instructors are trained to minimise the risk, by leading a warm-up, explaining safety rules, and taking many other precautions. However, accidents can happen in every sport, so please be careful and don't expect it to be 100% risk-free.
How many participants?
We have taken private groups as small as 6 and as large as 110. On the other hand we've also brought the activity to school fairs with thousands of attendees. In each bubble game, a maximum of 10 can play at one time. So if your group is larger than 10, for example with 20 people, you can take it in turns, alternating playing and resting. This works fine, as you will need to take rests anyway. With very large groups, we add other activity stations, such as team-building games, and groups alternate between bubble football and the other activities.  At large events and school fairs, people can simply come up and have a go. 
Where?
We take the equipment and the instructor to meet you at a venue of your choice. We have some recommended venues to choose from, please enquire if unsure. Alternatively you can also provide your own. If providing your own, the ideal place would be a mini grass (or fake grass) football pitch, either indoor or outdoor. The exact size doesn't matter much. Other soft surfaces such as sand can work too. Alternatively, an indoor basketball court or gym can work, as long as the ground is wooden or plastic, not concrete. 
Bubbles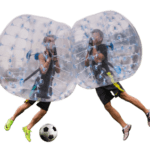 Venue